It was a last minute request to get this up live on Facebook. Friday, 16 Dec 2016 was the show and we only got the job request on Monday, 12 Dec 2016. We are fortunate to have our schedule open for that day but we still needed to recce the site for Internet Connection Speed. At 5pm that Monday, our Engineer went down. The location was in Mediacorp Caldecott Hill. If you didn't know, Mediacorp is moving their departments in phases to their new campus at Bouna Vista area.
The internet connection.
Firstly the room was in a total mess but they did cleaned it up for the Friday show. We tested the 4G connection but there was none. The only connection we could get was H+. While inspecting the room, we saw LAN wires dangling all over the place, so we tested the connections and it had 100 mbps download and 70 mbps upload speed. This was good enough to do our Live streaming. We spent another hour or so to test the stability of the connection by streaming videos to our test Facebook page. Our Engineer gave a green light for this job.
Pro-LIFE?
We came about 4pm that day to set up. Upon reaching the gate, the Mediacorp security guard at the Radio Gate saw our branding – Pro Live and he immediately asked us. "Are you guys selling water?". Confused for a while but we got to know later during dinner that the mineral water supplied was from PRO-LIFE ( you can google for them ).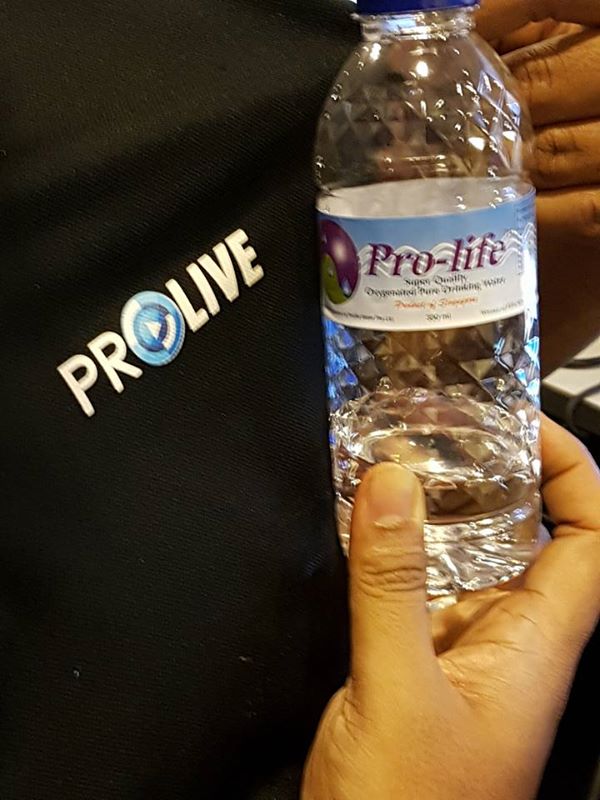 The Show
We were told to start at 8pm but it started 15 mins earlier as the MCs began to talk to the 50 contestants that arrived before 7pm. They had toilet break and dinner before the show . Live Streaming started around 7.45pm with a static image and trailers running before turning on to the cameras for this show.
For the Facebook Live Show..
We leave it to you to watch the whole show at Suria, Mediacorp Facebook Page 
The Facebook Live show, it manage to get 1500 viewers.
Other photos