Live Event Video Streaming Services
At the moment, there are around 4.2 billion of us who use the internet. That's more than half of the entire world population. Around 45% of these people spend more than an hour watching videos on Facebook and YouTube, focusing the attention towards live event video streaming services.
Chart 1:::::: increase in the number of people who use the internet over the years, source: statista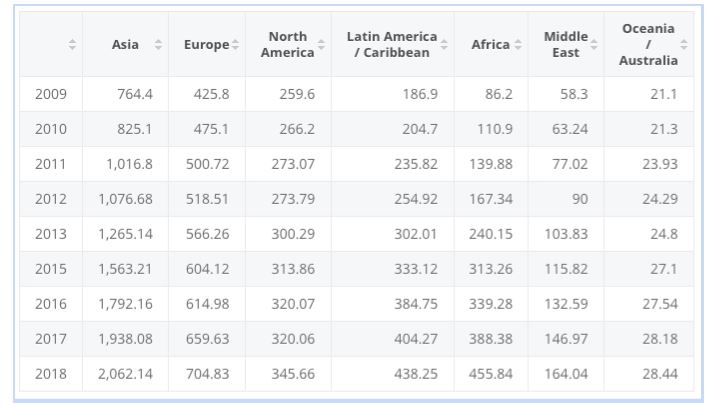 The number of internet users takes on a stable growth that it is projected to reach 90% of the world population in the year 2030.
In Singapore alone, there is an increase of 7% in the number of internet users from January last year. That's an added 248 million people to the fold.
Providing marketing and communication avenues for users all over the world, there's no doubt that the web has become an integral part of the success of many businesses and organizations.
Live streaming trends
Among the latest trends we observe is how live videos gained more exposure. Popularized by Facebook Live, YouTube Live, Periscope, and other live streaming outlets, it has changed how audience take in information. Almost half of all internet users watch at least an online video monthly and more than 80% has expressed that they've watch more live videos in the past year.
Chart:::::: live videos statistics worldwide
What live content do most people watch?
Breaking news, live conferences, talks, and concerts are among the top events that people look forward to online. The likelihood that they will buy a product also increases after watching a live video. This yields much more favorable response than through blog entries and posts on social media.
What makes live videos appealing?
In the article The Psychology Behind Why We Love Live Video, Krystal Overmyer discusses a number of reasons why live videos are becoming a trend and it has something to do with our thirst for authenticity and connection and the fact that live videos are special, compared to their scripted, pre-recorded counterparts.
What makes live videos so successful?
Live videos are usually streamed in social media outlets, which can lead hundreds or thousands of audience back to your content. The social media population is among the fastest growing in the industry. In fact, for the duration of just over a year, it has seen an increase of 320 million.
What do live event video streaming services include?
Should you decide to get live event video streaming services, you can expect the following:
Multiple channels
Given that there's not only one outlet for live streaming, you would want to put your video out there as much as possible. This means targeting multiple channels such as YouTube Live, Facebook Live, and Periscope.
May it be a conference, a launch, or any event in your organization, directing your attention to these outlets is a wise move considering social media population exhibits the fastest growth.
Infographic::::::320 million new users signing up between September 2017 and October 2018
Prolive's services include reliable channel partners where your live content will be broadcast. With our equipment and expertise, your event will be available for your audience across the globe and it can be viewed in HD quality.
Great Audio Quality
We take pride in the kind of professional cameras we use. However, we put as much importance on the quality of its audio. We can't put the former over the latter because no matter how great the video aspect is, if the sound quality does not reach the viewers' standards, there's a high possibility that they will not see the whole thing through.
You don't want your viewers to hit the close button before you get to the best part of your event.
With our microphones, audio mixers, and other audio equipment, we make sure that your audience can hear every word clearly and the whole experience will be worthwhile for them.
Recorded Videos
Did you know that you will get a lot of views after the live stream itself? Let's take for example a personal live video from the famous Chewbacca Mom.
It was great because it was spontaneous, obviously not scripted and it made millions of people all over the world laugh. Chewbacca Mom's laughter was so contagious that the live video has been viewed more than 175 million times. And because of that, it was hailed as the Most Viewed Facebook Live Video by Guinness World Records. Up until today, more and more people are discovering it.
This is just an example of how powerful live videos can be. And it can be the same with yours. It may not be as funny (because it's more on the informative side) and it may not be on the same viral scale, but the potential is there.
This is a concept we understand at Prolive and as response, videos will be recorded and they can be available right after the event. They can be accessed in high resolutions as well.
Mobile Streaming
Having your video available in mobile can drive more traffic considering there are 100,000 more first time mobile users daily. This number adds up to the growing population of those who use a smartphone.
According to Statista, an average mobile user uses up around 4.1GB of data per month. This number can reach up to 8.9GB in the year 2021.
Making sure your audience can watch you live on mobile without any problem is one of our responsibilities. We see to it that they can enjoy regardless of what kind of device they're using.
Live streaming your videos can have multiple benefits on your brand. It's a fast and effective way to gain exposure and it also improves your relationship with your target market. This is just an introduction on what you can get from live event video streaming services. If you have more questions for us, feel free to contact us. We'd love to hear from you.